HK$6,905.69 Off on ThinkPad P14s Gen 2
Pay HK$9,299 instead HK$16,204.69 for the new ThinkPad P14s Gen 2 with a Lenovo Discount working 42% Off. Get Free delivery and receive that fantastic Lenovo's most portable mobile workstation in only 3 days
NEVER MISS A PROMO CODE!
YOU WILL FIND EVERY VALID PROMO CODES AND DISCOUNTS
Lenovo Frequently Asked question (FAQs)
How do I use promo code on Lenovo?
After chooses what you want to purchase, you only need to apply the Lenovo promo code on related field before processing the checkout.
How to get student discount on Lenovo?
Lenovo offers a special discount to college students and teachers on their entire purchase. Verify your status by clicking on the verification button in the shopping cart, and the discount will be applied at checkout.
Does Lenovo Hong Kong offer a Sign-up Promo Code?
Yes! You will get $500 off your next order when you subscribe to Lenovo Hk newsletter. You will receive your personal coupon directly to your email.
Do I receive any promo code for Lenovo first purchase?
Yes, first of all, you need to register at Lenovo official website then you can claim your 10% Off as a promo code to use on your first purchase.
Who can apply for Lenovo pro discount code?
As a Lenovo Hong Kong pro member, you will be able to apply for all the promotions and discount codes available to you.
Does Lenovo Offer Free Delivery?
Of Course! Lenovo offers free standard shipping to addresses in Hong Kong. Delivery usually takes 5 to 8 business days.
How can I get Lenovo discounts?
Students, teachers, and parents are eligible for extra discounts and savings at Lenovo.com. First responders, healthcare professionals, and seniors 50+ are also eligible.
Does Lenovo have in-store or curbside pickup?
Lenovo does not offer in-store or curbside pickup since it operates exclusively online. To purchase a Lenovo product in-store, you must do that a Lenovo Hong Kong website.
What is Lenovo's shipping policy?
Lenovo offers free standard shipping to Hong Kong addresses without any minimum order required. When you receive your confirmation email with your order number, you can log in to the courier's website and track your package. Remember also that Lenovo don't ship to PO Boxes.
How Much Can I save on a 2-in-1 laptop?
Lenovo offers various promo codes and discounts when you need to purchase a 2-in-1 laptop. For example, on Yoga selections, you can save up to HK$2800 Off
Does Lenovo price match?
Lenovo will honor a lower price on identical products at the time of purchase or afterward. Lenovo Hong Kong with the same critical specs sold through a nationally recognized online retailer can be price matched. For a price match, contact Lenovo Sales with a link to the product. Upon finding a lower price after your purchase, Lenovo will honor a price match guarantee.
What is Lenovo payment policy?
Lenovo accepts Visa and MasterCard, also issued outside Hong Kong SAR. At the same time plus allow their customers to pay by Bank Transfer, AMEX, UnionPay, Tap & Go, WeChat Pay, and AlipayHK. Lenovo does not offer payment plans for businesses.
How much can I save on Purchasing Lenovo products for my business?
You can save up to 40% Off on purchases. Just take a look at Lenovo Business and choose from a range of PCs, accessories, and unique technologies. Before making a purchase make sure to find out if there are active promo codes or special deals.
How much can I save if I purchase Pc for my Company?
You can register at Lenovo Business in 30 seconds, and then you will receive a Welcome discount of $6000 to use for your first order.
How To Apply a Lenovo Coupon
Lenovo offers its customers the best: a user-friendly website that ensures you will not have any trouble browsing. And to make it even more exciting, Lenovo offers many seasonal promotions specials where you can get high-end electronics at extra low prices. All you have to do is follow these steps to redeem the great Lenovo discounts:
Simply go to Lenovo.com.hk and click the "Add to Cart" button to add the items to your shopping cart.

When all your products are selected and you are ready to check out, click on the shopping cart symbol at the top right corner of the screen. After selecting your last item, you can also click "Proceed to Checkout".

Enter your payment information on the "Select Your Payment Method" page.

You will then find the "Have an eCoupon or discount?" box. In this box, type or paste your Lenovo.com.hk code and click "Apply."

The discount will appear on your order immediately after entering a valid promocode.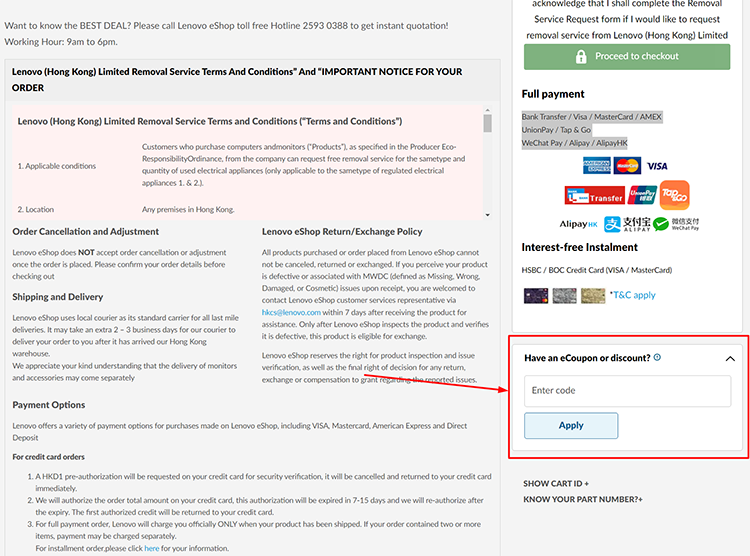 Customer Service
The Lenovo website is designed to be easy to use and simple to understand. Customers can find a range of quick links on the home page of Lenov.com and by scrolling to the bottom of the web page. There are options to choose from. The Lenovo website also offers 24/7, 365 days of customer support. Customers can live chat with employees from Lenovo or email them or ring them up at the provided numbers. Besides that, Lenovo also has a service where customers can be guided in choosing their next laptop. By scrolling to the bottom of the page, customers will find a quick link, "Shopping Guidance". Clicking on this link will lead customers directly to a web page that will assist them with all their online shopping needs.
Lenovo Discount Codes You Just Missed